Radio Team GB1AJ Scouts and Guides from eighteen countries around the world took part in the International Jamboree at Auchengillan Outdoor Centre in Stirlingshire from the 27th July to the 3rd Aug 2013.
During the week-long event BYLARA members from region 47 & 47a Kai MM1AUF, Eunice MM3UVL, Stephanie MM3YGE joined with Bob MM3YGE, George GM8YUI, Peter MM1CIR, Malcolm GM3TAL and Marcel PA1JPS from the Netherlands combined to provide a very successful range of amateur radio related activities.
The team set up two radio stations, HF and VHF/UHF, with a Force 12 Beam antenna kindly loaned by the GMDX Group, an Alpha Delta DX CC multi band dipole, a six metre home-brew beam and a 2m/70cm col-linear. The radios used were a Yaesu FT- 840 driving an Acom 1000 linear amplifier providing 400 watts output on HF and a Kenwood TM-V71 for use on 2m and 70cms. The young people were able to send a greetings message to a number of stations including Jamboree stations in both Germany and Sweden.
A new activity for this Jamboree, provided by Marcel PA1JPS, involved using specially built RF receivers to locate "Talking Trees" within the campsite. This proved to be a big hit with the young people who could not believe trees actually spoke (using a hidden transmitter).
The young people were also introduced to Morse code which they then used in a 'Wide Game' that involved navigating through the campsite, finding and decoding clues to a secret Morse code message.
In an afternoon break from the Amateur Radio program, the radio team had the opportunity to participate in different activities during the "Friendship Frenzy" event. These were activities designed by all the participating nations to highlight important aspects of their culture including food, dance and games.
During the course of the event the radio station was visited by a number of scouting dignitaries including the Chief Commissioner of Scouts for Scotland, Graham Haddock and Wayne Bulpitt the Chief Commissioner of Scouts for the UK.
For many of the young people the radio activities were said to be the highlight of the camp and proved so popular, particularly with the Ukrainian contingent, that they visited the station on numerous occasions. One of their participants was so enthusiastic he became an honorary member of the team and helped with the electronic logging duties!!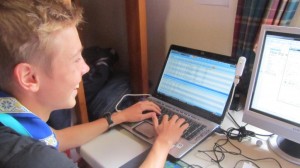 The team will now begin preparations for their respective JOTA stations and come together again in July 2014 to provide another exciting amateur radio experience at the Blair Atholl Jamborett.