BYLARA member & Regional Rep for Region 47 & 47A, Eunice MM3UVL & her husband Bob MM1AWVL attended the RSGB Centenary celebrations that took place at Bletchley Park on 5th July. They travelled all the way from their home in West of Scotland for this once in a lifetime event and had a fantastic day out. It was a glorious day with around 250 Members using their free entry vouchers to join in the celebrations. The Lord Lieutenant, Sir Henry Aubrey-Fletcher Bt JP, High Sheriff of Buckingham unveiled two plaques; one commemorating the work of the Voluntary Interceptors during WWII and the other celebrating the RSGB's Centenary.
Eunice & Bob listened to some of QSO's that the radio operators had, which, at the time of their visit happened to be all from Scotland! An amazing coincidence!
Eunice & Bob attended two lectures at the Manor House. The first was the re-creation of Dud Charman, G6CJ's Aerial Circus by Terry Giles G4CDY.
Originally, Dud designed a system that used microwaves to demonstrate aerials of all shapes and designs. It was first demonstrated in 1945 when, using micro-mini aerial models, he was able to illustrate exactly what happened to the RF when reflectors and directors were added to a dipole. Terry has created a modern equivalent and demonstrated a variety of aerial designs, showing the radiation patterns associated with each aerial. A fascinating talk & demonstration.
The 2nd lecture was by Paul Cort-Wright G3SEM, who spoke about the role played by the RSGB and radio amateurs in the Radio Security Service (RSS) during WWII. There were around 1,500 radio amateurs engaged as Voluntary Interceptors at the peak of WWII who operated in secret from their own homes, in back bedrooms and sheds throughout the war.
Eunice & Bob were lucky enough to be able to meet and talk with one of these Voluntary Interceptors – Ray Fautley G3ASG. He was a very interesting gentleman who, even now, was not able to talk about his work during the war.
Next stop was the 'Build-a-thon' tent, where local school children were working throughout the day to make 20m data receiver, then write a programme for a Raspberry Pi to log the signals received.
It was great to see the children working so hard soldering their components to make the receiver and to see & hear the results.
This was an all day event, so Eunice & Bob had to make many return trips to the tent to see the on-going work. This has given them some new ideas for future club nights with Guides & Scouts.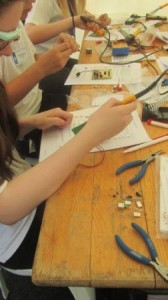 Last stop of the day was ARDF (Radio Orienteering). Eunice & Bob met a young Explorer James 2E0JPM and a member of Radio Scouting who happens to have a lot more knowledge in ARDF than Eunice & Bob had, so he was quickly encouraged to join with them. ARDF is an amateur racing sport that combines radio direction finding with the map and compass skills of orienteering.
4 Beacons emitting a different morse code number were hidden all over Bletchley Park. The use of radio equipment & headphones are used to listen to the different Beacons transmitting their signals and then all that has to be done is work out where to go to find the beacon. Easier said than done and Eunice & Bob were very glad they had James on their team. They managed to complete the course in just over 20 minutes, but didn't come close to the winners!
Later that evening, Eunice & Bob joined with 151 guests gathered at Horwood House for the Centenary Dinner. This was a voluntary black tie event in recognition of the Founder Members who regularly held formal dinners. All the guests got into the spirit of the evening with a celebratory photograph being taken.
Professor Peter Cochrane OBE, G3RVC was the very entertaining after dinner speaker. Various presentations were made to the RSGB from ARRL, IARU, DARC, ARS of India, Danish EDR, Quarter Century Wireless Association Inc, Amateurfunkclub Deutschland and Polish PZK will be displayed in the library of the National Radio Centre.
Eunice & Bob had some very interesting dinner companions and swapped some radio stories throughout a lovely dinner with arrangements to meet up with some of them at the National HamFest in September 2013. It was a very enjoyable day and Eunice & Bob were thrilled to be able to take part in the RSGB's Centenary Celebrations.