BYLARA members Kai McClintock MM1AUF, Eunice Lynch MM3UVL & Stephanie McCann MM3YGE took part in the annual Girl Guide Thinking Day on the Air TDOTA recently. Kai, Eunice & Stephanie are members of Greenock & District Scouts & Guides Amateur Radio Club MMØTSG and along with their OMs Bob Lynch MM1AWV & George McClintock GM8YUI provided Girlguiding Renfrewshire with a Special Event using callsign GBØGGR at their local County campsite – South Newton, Kilmacolm.
Contact was made with an amazing 12 Guide stations from UK & Netherlands as well as a total of 279 radio contacts in 34 countries from all over the world including some far away destinations in Martinique, Cuba, The Azores, Moldova, Russia, Eastern & Western Europe & a fantastic 148 stations from all over UK.
Members of the club were thrilled to make contact with GM1ØØ RSGB – the special call sign travelling round the country celebrating RSGB Centenary Year. Over the TDOTA weekend it was in The Shetland Isles.
Eunice had been regularly tweeting updates over the weekend & some Guides were thrilled when they saw a picture of some Brownies from Manchester, who they had been speaking with on the radio. Their leader had tweeted their picture for the guides to see, so the guides asked if they could do that as well and excitedly posed for a picture and watched as their picture was tweeted to the Brownies, and they all agreed 'that was fantastic'.
The theme for the weekend had been Communications with all the girls completing the requirements of the Communicator badge. The girls took part in various activities including passing a greetings message using amateur radio, Morse code, Phonetic Alphabet, Semaphore, Whistle Blindfold trails, making Morse Code Bracelets & Clocks from CD's.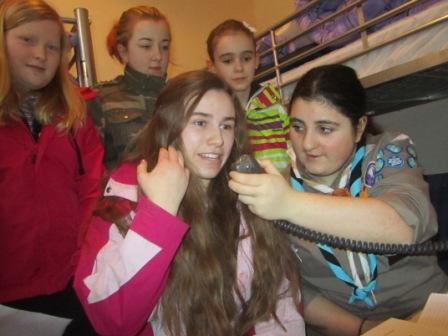 A new Radio activity this year was a Morse Code Wide game adapted from a game devised by Kingdom Amateur Radio Club KARS used at 2012 Blair Athol Scout Jamborette which involved decoding South Newton place names from Morse Code, quickly racing to each of the places, decoding the message and finally trying to work out the secret message. All the girls voted the game a huge success and loved racing around South Newton while talking to each other using Walkie Talkies.
A most successful weekend for all concerned.