GB16IYL 2016 International Young Ladies Meeting @ Milton Keynes, Buckinghamshire UK
By NickyMM5YLO
A small party of four (MM5YLO Nicky, GMØGFL Tony, MM6YLO Gail & MMØNQY Peter) set off from Shetland on a 'radio adventure' holiday. The journey down took 12 hrs by ferry and 12 hrs by motorway. This was Peter & Gail's first Mainland Radio outing so all was new to them.
MAIN YL MEETING MONDAY 3RD
All met up at Novotel in Milton Keynes We arrived at 17:00 and were greeted by Carol, Hazel, Judith & Jennie in the hotel entrance by the special BYLARA/IYL Stand. After finding our rooms we re-met in the restaurant and began to discover friends old and new. An event radio station was available all week with the call GB16IYl
TUES 4TH FREE DAY
We went Shopping. This was a bit of a disaster for us. Although the shops were in walking distance ..we decided to drive…well ten miles of going round and round we did manage to get parked up!!! The shops were enormous by Shetland standards. Some clothing was purchased and then a retreat to the hotel for a rest!
WED 5TH BLETCHLEY PARK [WW2 CODE BREAKING]
After a short introduction to the history and layout of the site we set off to explore. We found the RSGB radio station and display, followed by the many work areas of decoding each having it own animated display. Lastly we ended up with a working demonstration of the remade Bomba.
After a fine meal in one of the decoding huts! we visited the Computing museum in the other part of the site. Here we were shown the Colossus by none other than Mrs. Sale who was 90 yrs old (Tony Sales wife).
Evening Talk in hotel~ Shetland DX Holiday Spot (By Tony & Nicky)
THUR 6TH WOBURN ABBEY.
After the short coach ride arrived via an interesting journey through the dear park.It was rutting season and the deer were very close to the coach. At the house we we all went our own ways..either round the house then the grounds or grounds and house.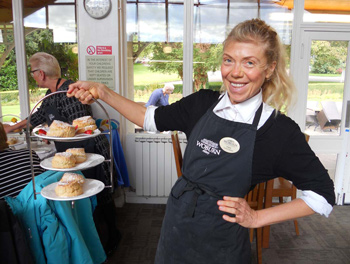 A wonderful cream tea had been arranged for us in the afternoon.
Evening Talk in hotel~ by Anna TF3VB & Vala TF3VD also Hardy DL3KWF
FRI 7TH FREE DAY.
We went to Duxford Airfield (Part of the Imperial War Museum) This was a little further to drive (50 miles) It was a surprise to us on how big the airfield was. Entrance via a large gift shop to the site buildings. Two huge hangers, one British aircraft (Concord, Vulcan Bomber) the other for American aircraft (B52 etc)… the aircraft easily fitted into the hangers. Other Hangers were still in use for repairs and storage. though visitors could walk round them.
Evening Talk in hotel~ WAB by Judith G4IAQ & Dave G4IAR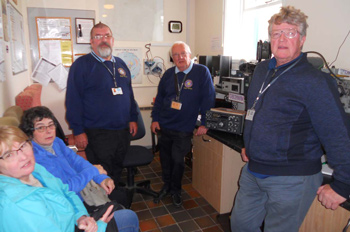 Again we found the amateur radio station. Gail & Nicky got into long conversations with the operators who manned the radios [GB2IWM].
SAT 8TH. YL MEETING & RSGB HF CONVENTION
Both Days BYLARA had a main stand from which we all used as a base in-between lectures.
Gala Meal (at Novotel) Gifts and thanks to the committee and organizers Carol 2E1RBH, Judith G4IAQ, Hazel G7RGI, Maureen G8GKR, Jennie MØHZT (and their OMs!)
A raffle was arranged and many fine gifts were won. A pair of Scarecrows was presented to Nicky and Tony from Carol & Robert to remind them of their adventures together in Dorset.
SUN 9TH
In the main convention lecture room…
"BYLARA" Talk by Carol 2E1RBH
Mon ~ Fri
we travelled South and visited The Mary Rose (at Portsmouth), and The Chalkpits Museum (at Amberly in Sussex) and our old QTH in Dorset
Here we re-meet Peter Head G4LKW who was manning the Chalkpits Museum radio station GB2CPM
Back to QTH after meeting some wonderful friends (over 44 YLs & OM+ 2 Scarecrows)