We had a Great Party
At last our seemingly long wait for our celebrations (they happened on the weekend of 24th/25th and 26th July 2015) were upon us and it was time to pack the case, hop in the car and drive to our destination, 750 kms east of our fair city of Adelaide, to Melbourne in Victoria. Jean VK5TSX and I took a leisurely trip, over two days, and arrived at our booked cabin around lunch time on the Friday. We then turned around and drove to the airport to pick up our friend, Bev VK6DE who was to join us in our cabin for the weekend. As Bev's plane was late landing we drove straight to the venue for our informal dinner in the eastern suburbs. I lived in Melbourne for 25 years before moving with my OM and twins to Adelaide in 1991. Gosh the buildings had shot up, lots of skyscrapers all over the place and freeways which were unknown to me. Thank heaven for my trusty GPS system with a very efficient Jean at the helm.
Bev VK6DE, Shirley VK5YL, Jean VK5TSX
Friday Night Dinner Meet-up at the Mountain View Hotel, Glen Waverley
We caught up with our friends just after they had ordered their meal and were quick to do likewise. Hugs all round with YLs, and some OMs, we hadn't seen for years. Cameras were flashing all round and I hope I've given you some idea of the fun we had the whole weekend with these photos. Robyn VK3WX wasn't able to join us for the rest of the weekend but had a good time at the informal dinner. Robyn is in the bottom row, 3rd from the left.
Back row l to r: Linda VK7QP, Meg VK5YG, Donna VK3FRET, Bev VK6DE, Jean VK5TSX, Jean VK3VIP, Tina VK5TMC , Christine VK5CTY, in front of Christine is Shirley VK5YL & Jenny VK5FJAY
Front row l to r: Jenny VK3WQ/VK5ANW, Dot VK2DB, Robyn VK3WX, Elsie Jean VK3VIPs Mum, Margaret VK3FMAB
An early night, we thought, but yours truly got lost on the way back to our cabin and found me driving totally 180 degrees out – well it was dark and raining and we'd had a long day. At one stage Jean closed down the GPS system and just sat. I could almost read her thoughts……. 'she'll realize in a minute that she's lost'…. Yep, I had to concede defeat and turned around.
When finally we got back to our cabin Bev was freezing cold having travelled from Geraldton, where the temperature was about 27C in WA to Melbourne where the temp at 10 pm was a cold 10C. Once in the cabin we turned up the heating till Bev stopped shivering. Then it was down to business catching up on a few years of news. We finally fell into bed around midnight all set for the big day.
The Big Day
Our organizers, Jean VK3VIP, Margaret VK3FMAB , Jenny VK3WQ , Kaye VK3FKDW and Donna VK3FRET had done us proud.
Black and gold balloons with 40th embossed on them greeted us at the foyer of the Novotel Hotel along with some very tasty nibbles and drinks. We collected our name tags and proceeded to the ballroom which was set out with circular tables. Fifty three delegates was a great turnout especially in the middle of a very cold Melbourne winter where the temperatures hovered around 12C maximum.
Tina our President opened the proceedings with a thank you to the organisers. During a three course meal we heard from Norma about the early days of ALARA (LARA), founded on 21st July 1975, and we were able to have an eye ball with some of our founding members. Christine imparted her knowledge of ALARA pre-history explaining about our Florence MacKenzie Trophy for CW operators. Jenny gave us an insight into the 40 year history of our organisation. All speakers have an incredible fountain of knowledge which we all enjoyed. I particularly like the reference by Norma that in the early days ALARA didn't have 'fox hunts' we had 'vixen hunts'!
Some of our Founding and Long Standing Members
Norma VK2YL , Linda VK7QP , Rhonda VK3ZYL , Myrna VK5YW ,
Jennifer VK3WQ/VK5ANW ,Marilyn VK5DMS and Bev VK6DE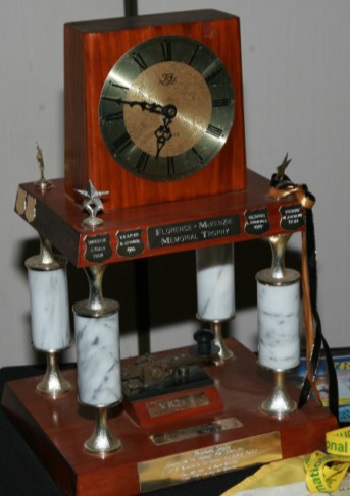 Our Florence McKenzie CW Trophy
SUNDAY – THE TOUR
Our first stop on our bus tour was at the Shrine of Remembrance at St. Kilda, just south of the city. As it is the 100th anniversary of Gallipoli this year the Shrine was very well attended, it being Sunday. The staff have a wonderful system of guiding one through the various caverns and mazes inside and underneath the Shrine itself that if you didn't keep up you could be lost forever. We saw one of the boats in the actual Gallipoli landing, not a replica, and the backdrop movie was indeed moving some of us to tears – all those soldiers lost to us forever.
At the entrance to the Shrine the walkway is paved, under glass, with thousands of fabric poppies, and a whole wall of medals from both World Wars – the wall seems to stretch to infinity.
Our lunch stop was at the hotel where a famous TV series was filmed, The Sullivans – about the life of an ordinary Australian family during the years of World War II. The series was a hit on Australian television during the 70s. A wonderful home-cooked lunch was enjoyed by us all and I especially liked the crumbed aubergine, very different but oh so tasty.
Then it was time to shop as our next stop was the Queen Victoria Market well-known for its 'you can buy anything here at ridiculously cheap prices' title. Some spent up big, others bought a years supply of bamboo socks, missed those, and lots of souvenirs.
A wonderful array of bygone days of ALARA, expertly put together by Jenny VK3WQ/VK5ANW
An exhausted bus load dozed on the way back to our hotel but were wide awake when it was time to say goodbye.
A wonderful happy group of YLs
I'd like to congratulate all those involved in organising a wonderful weekend of celebrations.  Can't wait for our 50th……… Yikes, I might be in a wheelchair by then – oh well, I'm sure someone will be happy to push me around!
33 Shirley VK5YL